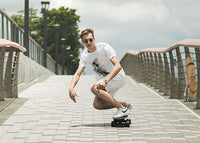 Why EFLOW?
• EFLOW family member:creators,designers,engineers and skaters.
• Factory outlet --Several factory together,include 12 product lines.
• World class Design, with the ability to customize your board deck.
• Boards shipped almost 68 cuntries ,2000+ happy customer all over the word.
• Keep upgrading electric skateboards,Always let you enjoy fresh riding.
• Always in best services,include pre-sales and after-sales
View More
Customer Satisfaction guaranteed, our reviews have an overall 5-star rating